Reaching the Roof of Africa
People choose to travel to experience, to learn and to find a connection with nature and people. As travelers, we learn and explore the depth of meaning, peeling back the multiple layers of life, discovering our vulnerabilities and our courage when we connect with profoundly powerful moments in the present. Sometimes, we choose to travel to find solace and peace. We travel to reawaken our nomadic soul. To feel alive. We are instinctually rooted in a sense of migration with the rhythms of nature.
Many people choose to travel to Tanzania to climb Mount Kilimanjaro. Kilimanjaro is the world's highest free-standing mountain and Africa's tallest mountain. Kilimanjaro is 5895 meters high, it has three peaks and supports a diverse array of plant life and animal species.
People choose to climb a mountain for many reasons. For some, it about reaching the summit, achieving a physical challenge. And for some, it's a slower experience, a spiritual and philosophical journey to reflect on life, attain clarity and enlightenment in the meditative pace of trekking in nature. Curious to unearth the story of Mount Kilimanjaro we speak with the founder of Summits Africa Ake Lindstrom, about the spiritual and philosophical journey of mountain climbing, reaching the "Roof of Africa".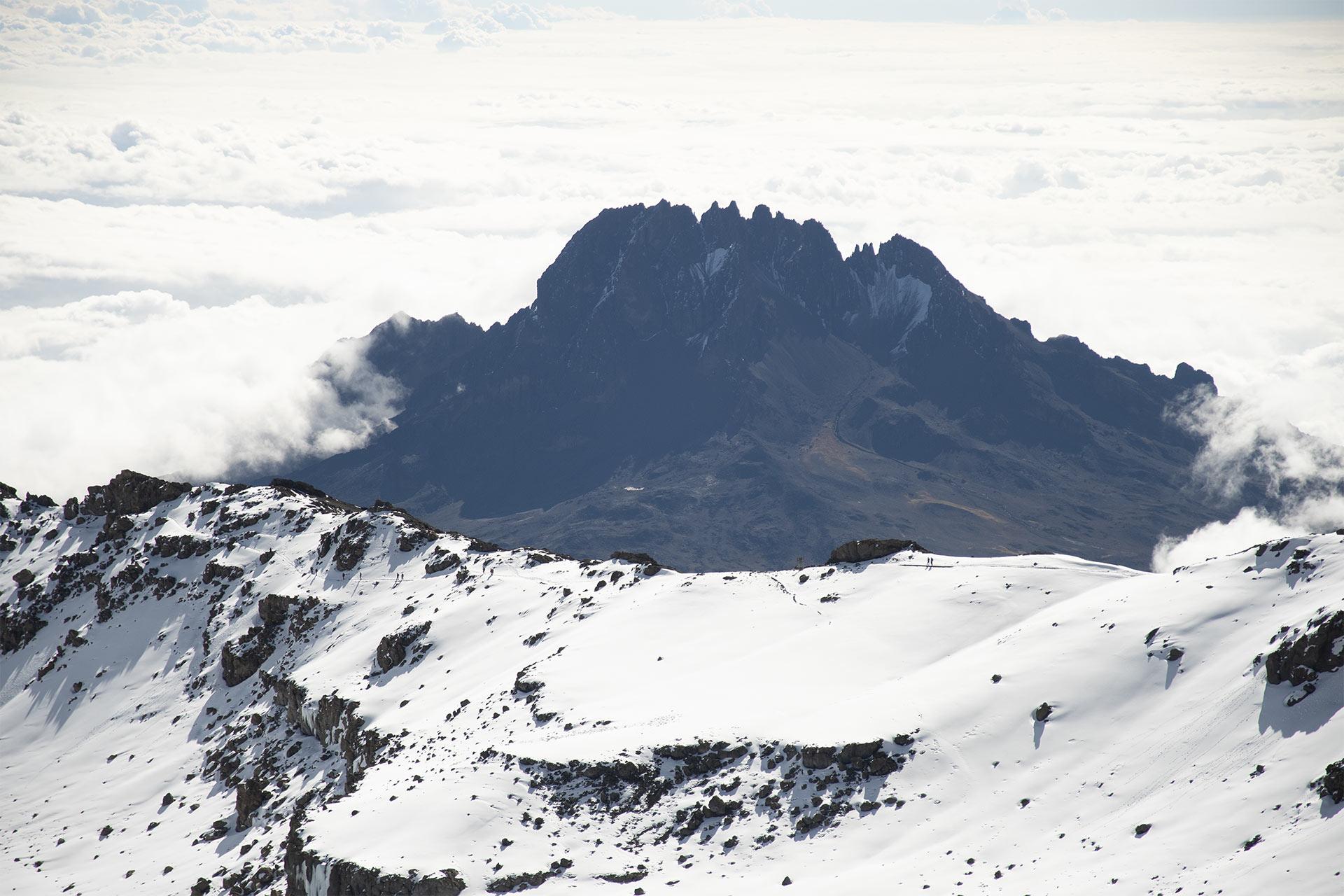 Why is mountain climbing fundamental to your life?
Mountain climbing for me is freedom. It's the place where I can go and be free and enjoy being outdoors surrounded by the most stunning landscapes. There is always an element of risk, there is always a massive element of adventure and these are the things I love having in my life. The mountain is not just a mountain. It's so much more. It's a place where we have built a team and built a community. Training and empowering people is part of the whole landscape of this story.
Why is Kilimanjaro an incredible mountain to climb?
Tanzania is a country that has so much diversity and beauty. When you travel, it's very hard not to fall in love with Tanzania. The reason I got hooked on Tanzania was because of Kilimanjaro. Creating a company around Kilimanjaro climbs was all about trying to make the climbs more equitable for the mountain porters and guides. Making sure they had proper tents, making sure that there were systems in place to protect and support their development and growth on and off the mountain.
Can you describe the transformational journey of the climb?
I think when people travel to climb Kilimanjaro, they don't always know what's about to happen. They arrive thinking that they are climbing to the top of a mountain. Step by step, slowly but surely, they start to peel back some of the layers in their own lives.
When you start climbing you start trekking slowly. You get into a walking meditation. Kilimanjaro is the highest free-standing mountain in the world. The climb takes between 5 and 8 days. The more days you spend on the mountain the deeper you will connect with the spectacular diversity of nature and your mountain support team.
People arrive thinking that they are climbing to the top and they end up building this profound relationship with the mountain, the environment, people, and then themselves. And once you get to the top it's breathtaking. The sun comes up and you start to feel more and more alive. This expedition connects with your soul. My favourite place on earth is the top of that mountain. It is a truly beautiful and spiritual place where I feel completely at peace.
Interview continues below the picture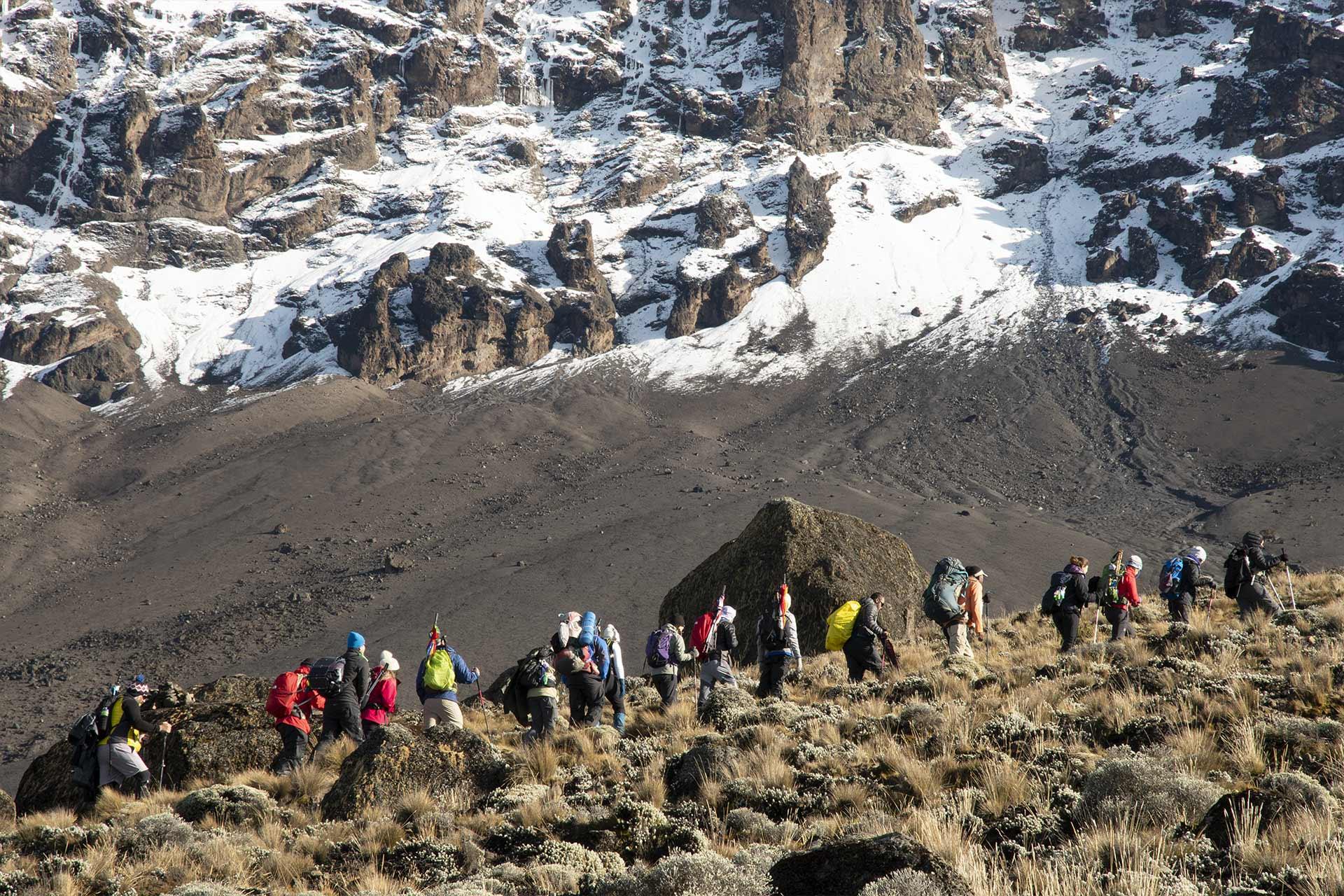 Can you describe the Kilimanjaro summit zone?
Near to the top are spectacular glaciers. Many people use Kilimanjaro's disappearing glaciers as an example of global warming. But there is so much more to the story. There is so much more to the history of Kilimanjaro. We can understand the cycle of life that exists over millennia on Kilimanjaro. The Glaciers up there are phenomenally beautiful. The northern glaciers are huge. You will see glaciers up to Uhuru peak. This space gives another opportunity for reflection as well. Kilimanjaro is a beautiful mountain to climb because of the diversity of stories told on the mountain.
Who can climb Kilimanjaro?
A Few years ago, I coined the term, Kilimanjaro being every man's Everest. If you want to get to the summit of the roof of Africa, then it can be done. You do have to focus mentally and you do have to train. It's a great excuse to get fit. As long as you are respectful to what it is. It's an extreme altitude mountain and if you give it enough time, take a good enough amount of days to get to the summit, then the probability is very high that you will reach the roof of Africa.  We always recommend at least 7 days on the mountain. Eight days is fantastic.
How many days before starting our climb should we arrive in Tanzania?
When you travel to Tanzania it is a long journey for most people. It is advisable to spend a few days before you go on the mountain to decompress, catch up on sleep, and take it easy. We prefer to recommend properties that are on the Eastern side of Arusha, like Siringit Villa,  because they are ideally located to get to the Mountain. If you spend a few days at Siringit Villa then you can do some amazing day trips, such as walking up on Mount Meru with your Kilimanjaro Guides.
Interview continues below the picture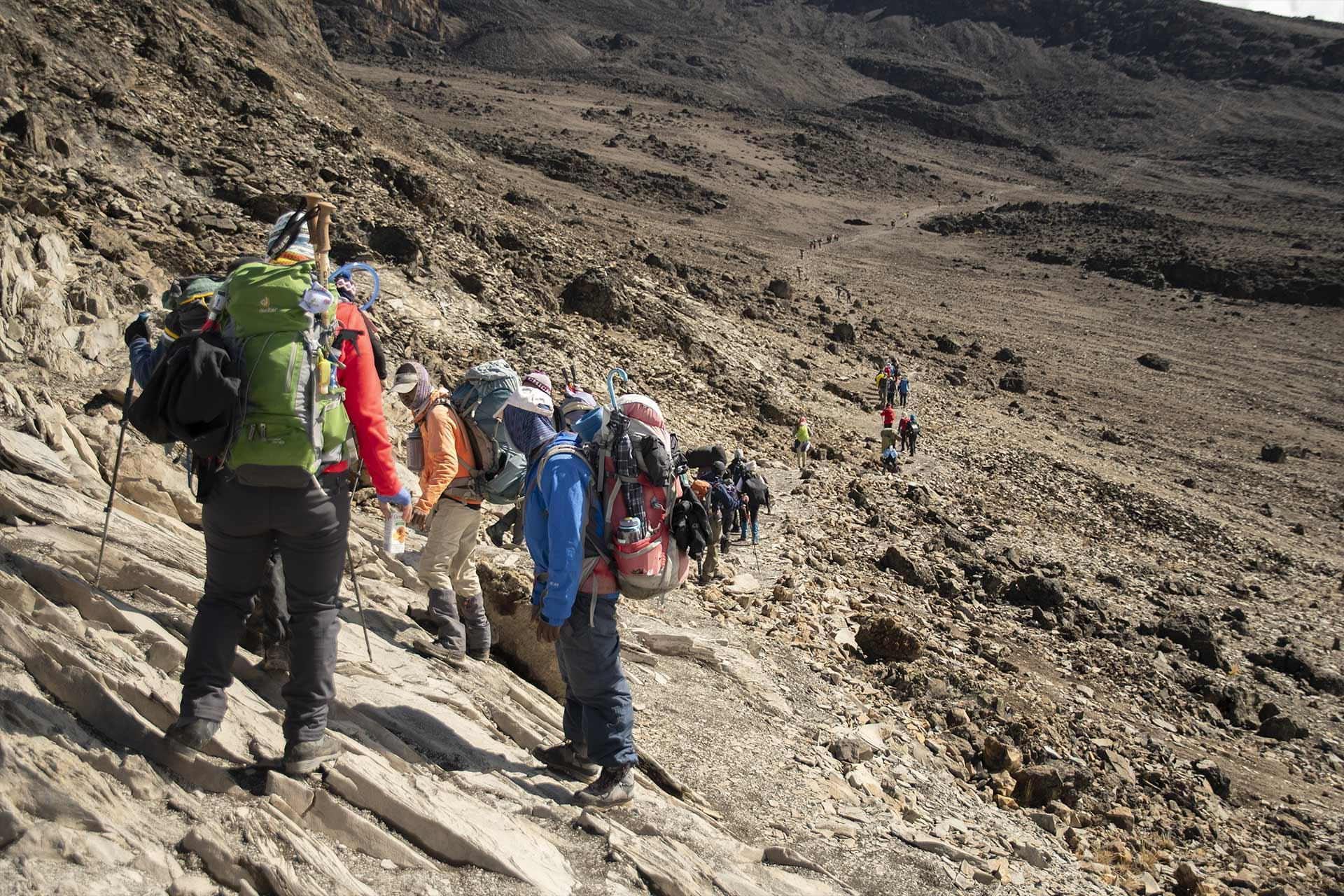 How fit do we have to be to climb Mount Kilimanjaro?
Preparing your fitness for the mountain is not as difficult as people would assume. The biggest challenge people will face is time. When your climbing Kilimanjaro, bear in mind you will be walking for 7 and 8 days, you will be at a high altitude and you're outdoors. The challenge is physical and mental.
There are many ways you can train. Walking or training on stairs is a great way to prepare for your climb. If you put the time into your training then it will pay dividends on the mountain. Make sure your core is strong and your legs are ready to walk uphill, and downhill. The best way to train mentally is commit to climbing a monumental mountain and prepare to push yourself beyond your limits.
When is the best time to climb Kilimanjaro?
The best time to climb Kilimanjaro is when it's dry season, June – October and January – February. It's very important to realize that this is a huge mountain and so any weather systems that come off the Indian ocean is going to fall as rain or snow on the mountain. The weather can change up there very quickly. My advice would be to choose to climb on the shoulder seasons, such as early June – mid-June and then mid-October or late January. These are periods when there is a dip in the number of people trekking on the mountain. The weather conditions tend to be fantastic at that time of year.
What do we need to bring when we climb the mountain?
In Tanzania, there are places where you can rent gear but the quality varies. Please focus on bringing insulated hiking boots, proper mountain clothing, windproof trousers, waterproof trousers, windproof/waterproof jacket. We strongly recommend having a down jacket. Having a few of these key items makes such a difference. 
We strongly recommend gaiters, a light pair of gloves mainly to keep the sun off more than anything. A thick pair of gloves that can go over the top or a mitten. Those will help protect your hands from the elements. Walking poles are something you can rent very easily in Tanzania. Walking poles are a great thing to have especially for the downhills.
Interview continues below the picture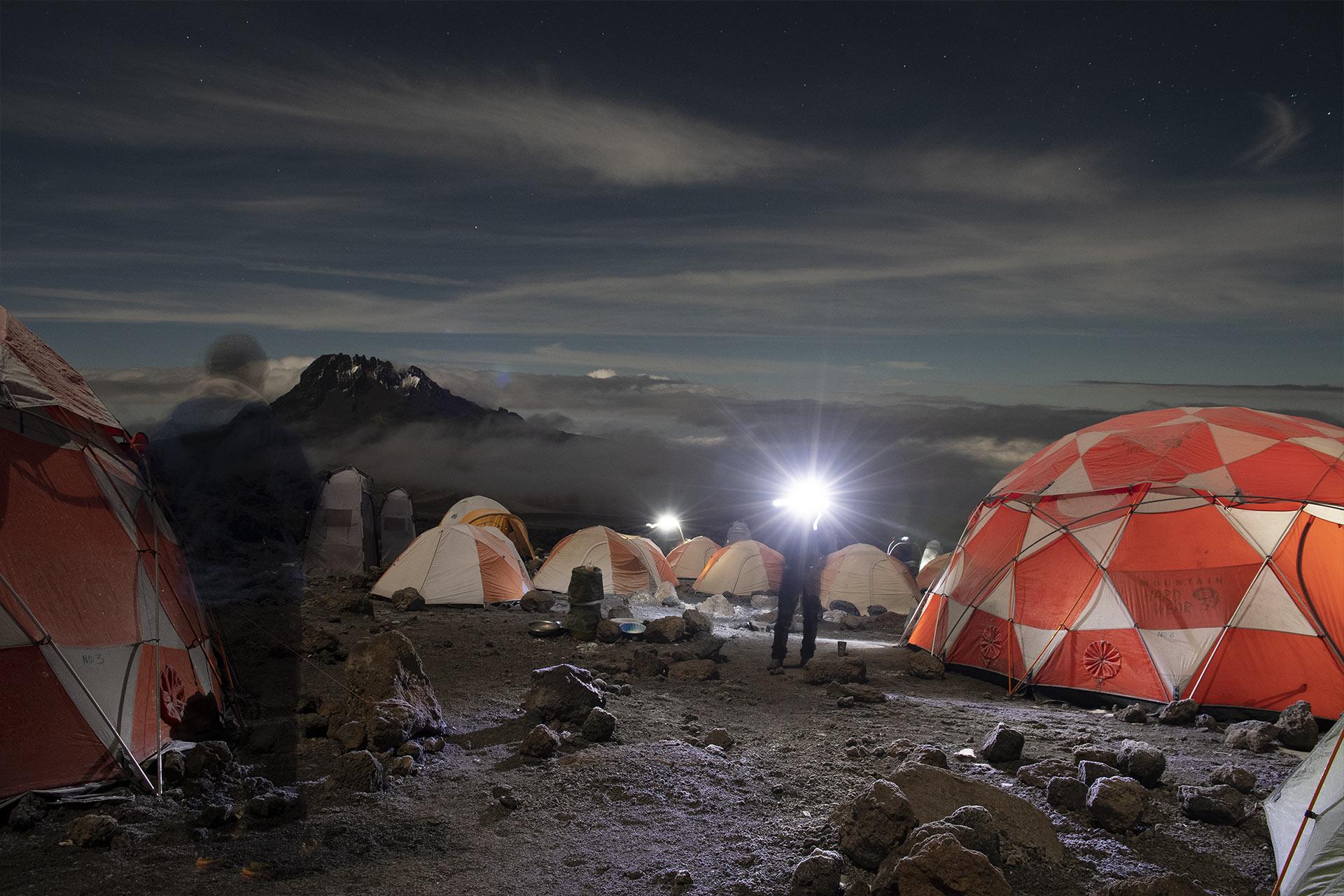 How many hours do we walk per day?
The amount of walking depends on the route. It very rarely more than 5 or 6 hours of trekking per day. On some routes, you are hiking from the morning until lunchtime and then you will be resting in camp for the afternoon. In the afternoons when you do have time then it is beautiful to go for an acclimatization hike. We find that helps with the acclimatization process. Keeping active, keeping the blood flowing helps people acclimatize.       
Can you describe the day-to-day experiences of Kilimanjaro?
One of the luxuries of being in Tanzania is that Tanzanians are phenomenally welcoming and very good at hosting people. When you go on the mountain, you are usually sleeping in tents. We try and make it as comfortable as we can but bear in mind you're on an expedition on the side of the biggest free-standing mountain in the world. At the end of the day you will be camping, there are camp beds to sleep on, you do have a mattress, you do have a hot water bottle at night time, and a warm mountain sleeping bag. There is a mess tent to eat in so you can always get out of the elements. You do have a portable toilet. It's a very complete and well-outfitted operation.
Will we eat fresh food?
We love fresh food and we resupply during the climb so that what gets put on the table is tasty and fresh. It's perfectly suited for an expedition. You need those calories to get to the top and we make sure that they are there and they are available in quantity.
 Can you describe the summit day?
The final summit day to the top is the crux of the whole climb. For most people, this journey is a nighttime ascent, intending to get you to the summit at dawn. The summit and descent day is probably the longest day that most people will have trekked in their lives. It is a humungous challenge and yet once it is done then you realize that you are capable of so much more.
How do you feel when you get to the bottom?
Once you have climbed Kilimanjaro then it's a huge sense of relief. Whether you summit or not you will still walk away from this amazing experience with a sense of humongous achievement.
Interview continues below the picture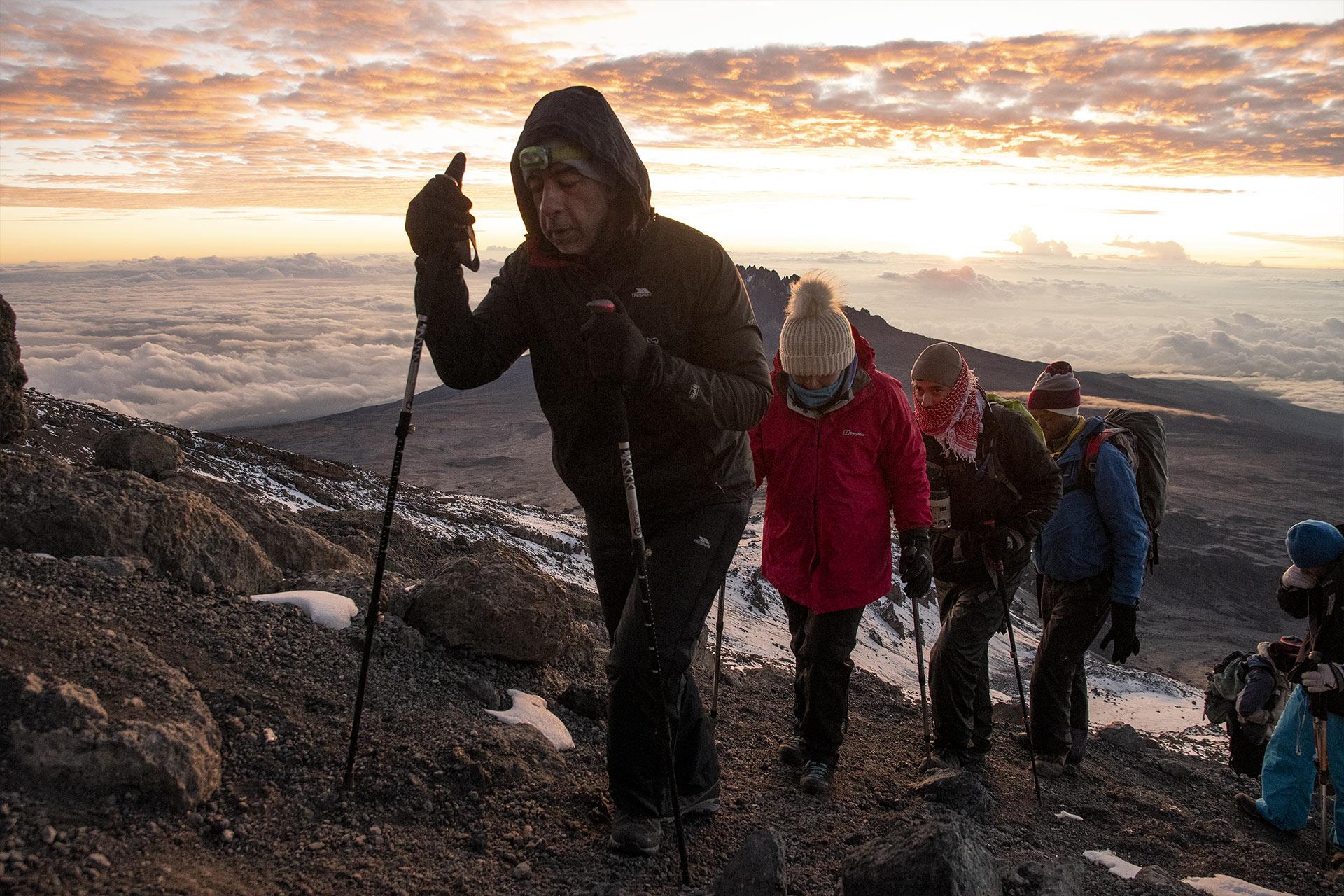 Is it safe to climb Kilimanjaro in the current COVID-19 climate?
Fundamental for us is the ability to create private climbing bubbles on the mountain for the duration of your climb. We observe as many protocols as possible during the climb. Most of the guests travelling now are vaccinated. Once you are on the mountain then you're in the open air, exposed to the elements and surrounded by nature. Kilimanjaro is a COVID friendly destination.
Why would you say that Kilimanjaro is a mountain transformation?
Kilimanjaro has always been one of those places where people come to get away, to experience something different, and get out of their normal environment. In the context of the past two years, Kilimanjaro is a massive release of lockdown, isolations and travel restrictions. Psychologically it is a cathartic release from those experiences.
What an ideal place to be! A place where you can be outside, be surrounded by nature and connected with a supportive community. You have a whole team supporting you during your climb. There are so many beautiful aspects to climbing Kilimanjaro: it's the challenge, the freedom, the support and the community.
How can we be responsible travellers in Tanzania?
Kilimanjaro is a mountain that gives back to communities. I think that is important in terms of travel sustainability. The mountain is an amazing pillar of opportunity and growth. It provides an income for many people, and that direct income is phenomenally important to Tanzania. At the same time, it is an opportunity to provide funding create business and drive the economy. Kilimanjaro is a place of opportunity for the future.
There are many ways that people can carbon offset their carbon emissions. We encourage people to think about the choices that they make when they travel. Choose to support responsible organisations in Tanzania, like Carbon Tanzania, who can tell an accountable story on climate responsibility and sustainability.  It's another great way to give back to the country. We encourage people to learn more, find out more before they travel and make a responsible impact in the places they travel.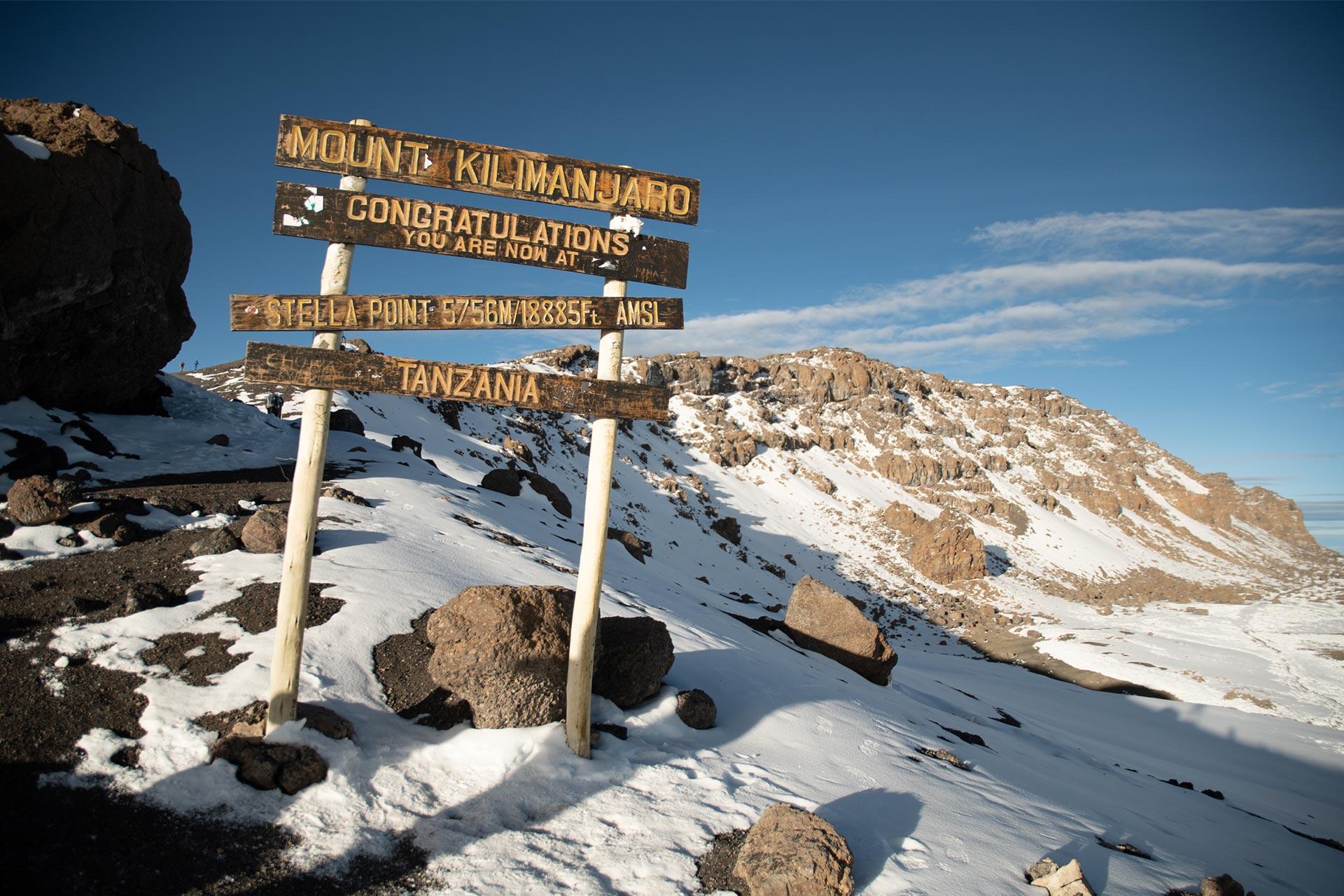 Memories for a lifetime